Fri Jun 19th, 2020
Care Company Puts Staff & Client Safety First With Home Made PPE
Care Company Puts Staff & Client Safety First With Home Made PPE
Care workers at an Inverness-based social care provider, Fraser Elite, have vowed to go the extra mile to help the elderly and vulnerable throughout the ongoing Coronavirus pandemic — even creating their own homemade PPE to help keep staff and clients safe.
Fraser Elite, which looks after elderly, disabled and vulnerable people throughout the Highland area, have stepped up in the wake of the national lockdown. The company are receiving an unprecedented level of calls as desperate families face travel restrictions and self-isolation measures, so now can't look in on vulnerable loved ones as they once would. "Our clients are all very dependent on us for their care," explains owner Julie Fraser. "We do everything from helping them to dress in the morning, checking in on them throughout the night — and everything in between. We bring in shopping and help to prepare meals, lots of things that a more vulnerable person would really struggle to do without assistance." Despite being a vital frontline service, the company has been unable to secure much-needed PPE, supplies of which have dwindled in the face of the global health crisis. With the help of husband Ron, Julie took matters into her own hands — creating a range of hand-made PPE equipment, including face masks, visors and even full-length gowns to keep clients and staff safe.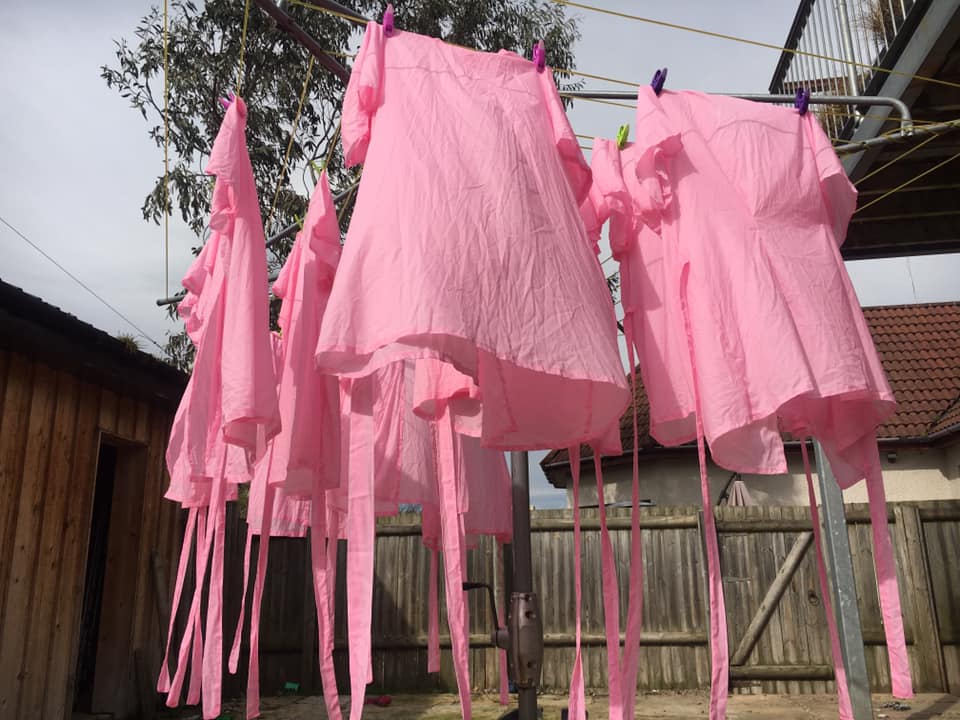 "It started when Ron wanted to make a few masks so that each of our care workers would have an adequate level of protection. Now each of our team members has four masks they can cycle throughout the day. We have also managed to source high volumes of hand sanitiser." The team are determined to make sure that everyone gets the care, company and supplies they need in the safest way possible. Each care worker has around 5 different clients they see, visiting up to 3 times daily — highlighting the importance of these enhanced safety measures. "For some of our clients, we might be the only other people they see each day. We're their only social contact. That's why we have to keep going, doing what we do, even with all that's been going on." The PPE Julie and Ron have made provides much-needed protection and peace of mind for clients, many of whom are older and suffer from pre-existing conditions. Fraser Elite provides home care services as well as part of the Highland's NHS social care provision through their sister company Fraser Home Care. As frontline health care services scramble to respond to the Coronavirus threat, companies like Fraser Home Care and Fraser Elite help fill in the gaps and make sure nobody is left behind. "We've seen first hand just how hard the amazing staff at the NHS are working to make sure everyone stays well through this period. There's a real sense of everyone pulling together in a time of real crisis." The team say they're ramping up production of the protective gear and including extra features to further improve safety. "We've sourced special anti-viral fabric which our new face masks are made out of, and our new gowns are being soaked in a special virus-inhibiting solution." Julie acknowledged how hard her team have been working to keep vital services running; "I would really like to thank all of our amazing staff for their support and continuing to do everything they can for our clients. Care isn't just a job to us, it's a vocation." If you or someone you know is in need of extra help speak to Fraser Home Care who will be happy to offer advice and support — contact the team today. Article originally posted in the Inverness Courier.
Recent Lighthouse Posts
---
Lighthouse Now Expanding Services To Aberdeen City & Surrounding Areas
After a successful launch of Lighthouse in the Highlands and later expansion into Aberdeenshire, Lighthouse…
Read this post »
Sister Company Fraser Home Care Now Accredited SQA Centre
We know how hard and challenging this last year has been for everyone, and once…
Read this post »
Lighthouse Is Expanding
Lighthouse is pleased to announce that the company is launching a branch based in Aberdeenshire,…
Read this post »