Extra Help With Schoolwork
As children advance through school their workload seems to increase. Homework can span a diverse range of subjects and topics, and in later years looming exams and more challenging courses can put pressure on students and their families.
Helping you manage your child's schoolwork
Busy parents often find it a challenge to keep up with the demands of schoolwork, homework and tutoring, resulting in a stressful situation for both you and your child. Luckily, Lighthouse is here to offer extra help with schoolwork.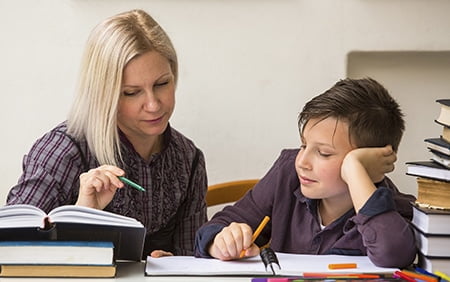 Schoolwork Help For All Ages
Our qualified home-helpers can lighten the load when it comes to your children's schoolwork, whether this is with primary-school level homework or professional tutoring in a specific subject.
We can even offer tailored education support for children preparing for exams, providing regular revision sessions to ensure they get the best out of their learning time.Our home-helpers are qualified to offer both broad and subject-specific tutoring and education support at levels ranging from primary school all the way to standard grade and highers.
Childcare services that are totally flexible
At Lighthouse we offer a joined-up home help service, our qualified home helpers are more than happy to combine services and create a tailored package to fit around you and your family. Why not combine homework help with transport from school, ensuring your child's schedule is adhered to throughout the week?
Read more about the other services we offer:
If you or your loved one could benefit from our services please get in touch.
Contact Us
Why choose Lighthouse
Flexible
---
Our home help fits around your life and your needs. Whether you require short-term assistance during a particularly hectic week or need longer-term support, we tailor our service for as long as you need it. We're agile too - we accommodate schedule changes and short-notice arrangements.
Affordable
---
No need to hire separate people for different tasks. We offer a unique, joined-up service - our home helpers are multi-talented, meaning you only need one person for the job. Save money and free up time for the things that matter most to you.
Safe
---
At Lighthouse our home helpers are directly employed by us and are subject to thorough vetting and training. We only employ the right people and ensure they have attained all relevant certifications - so you only receive trusted, quality help and support.
More Ways We Can Help
---
Get In Touch
---
01463 716 796
extrahelp@light-house.care
If you are interested or have any questions about our services, don't hesitate to get in touch with lighthouse today, we are always happy to chat and answer any questions you may have.